Diet and Nutrition DNA Test
From £119
Order Now!

Struggling to lose weight? Have you considered the role your genes play in how your body processes the food that you eat every day? Learn how to manage your weight more efficiently, start making choices that are optimal for your health and discover what diet will work best for you with the Diet and Nutrition DNA Test. Science has shown that there is a close link between your DNA and how certain foods affect your body shape, which means that without even realising, the food you eat might be incompatible with your genes, thus thwarting all your attempts to lose weight.
View a sample result by clicking the below image: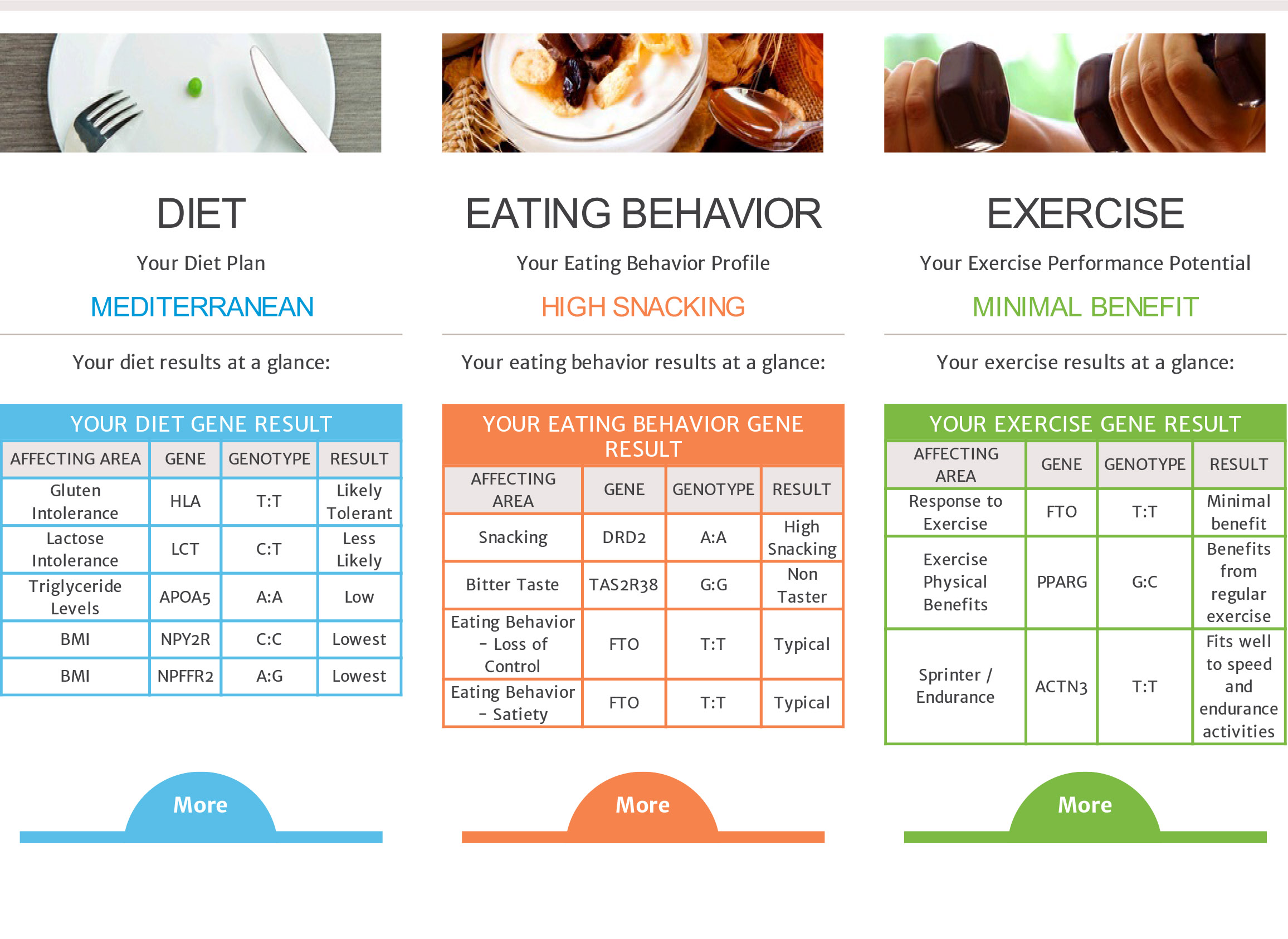 Special Offers
The price for our Diet and Nutrition DNA Test is just £119. We also offer a special discount if you take 2 Diet and Nutrition DNA Tests – just £228 for both.
Test Results and Further Information
The valuable information you will learn from taking this test is important if you want to reach and maintain your target weight. Some of the things you will learn about yourself include:
Eating behavior
Exercise Potential
Personalised Diet recommendation
Reaction to foods
Results will be ready in 4-8 weeks from the moment your samples are received at the laboratory.
With the results of your test you will be empowered to:
Find your perfect Diet – a perfect diet is a diet that achieves results and is sustainable in the long term. If you find yourself struggling to find a perfect diet plan that works for you, this test can help towards achieving the results you are looking for. Finally, find out not only what diet works best, but get a clearer picture of the complex dynamics between weight and genes.
Order Today
If you have been exercising for a while with no real results it might be because your exercise routine does not complement your genetic makeup. This is just the tip of iceberg regarding the wealth of knowledge you can gain through this simple test. Order your test today.
Science behind the test
The results of the Diet and Nutrition DNA Test can help you find solutions to various concerns including your weight, your metabolism, exercise routine as well as your food allergies by looking at your unique genetic predisposition. Science has established that there are certain genes that have the potential to impact how we perceive and desire particular foods, and influence our eating behaviors, such as excessive snacking, cravings, difficulty feeling full or achieving satiety.
Sample Collection
Taking the test is very easy – once you have confirmed your order, we will promptly dispatch your sample collection kit. Your kit will contain the following items:
Two test swabs (both for your DNA)
Swab envelopes for your DNA
Instructions for the sample collection procedure
Addressed reply envelope
The DNA samples can be collected by simply rubbing the swabs inside the mouth, under the tongue and against your inner cheek. Once you have done this for around 30 seconds, allow the swabs to dry and seal them back into their envelope. Once you have both sets of swabs sealed up you just need to send the swabs back to us in the prepaid envelope and wait about 4-6 weeks from the time we receive your sample for your test results to come back.
FAQs
4 swabs per person
Instructions on how to collect the DNA.
A return, pre-paid envelope and shipping label addressed to us.
Consent forms